Military Appreciation
Ameris Bank is proud to salute our military family. The pride we have in our country's men and women in uniform is equal to the pride we have in our banking tradition.
Meet the heroes
John Rogers
United States Army - CW-2 Chief Warrant Officer
Ameris Bank Commercial Banker John Rogers served in the United States Army for four and a half years. John served as a helicopter pilot and instructor pilot and logged approximately 1,200 combat flight hours. One year of his service was spent in Vietnam. Thank you, John, for your service!
Raymond Rogerson
United States Army - Specialist
Raymond Rogerson, son of Donalsonville, GA Teller Michele Rogerson, has served as a United States Army Specialist for four years. Raymond enlisted in March 2013 and after being stationed at Ft. Bliss in El Paso, TX, he is now serving in Korea. Thank you, Raymond, for your service!
Damon Keith Holloway
United States Army - Specialist
Damon Holloway, son of Retail Travel Banker Sheila Hadley, has served in the United States Army for nearly three and a half years. Although stationed in Korea for one year, he is currently stationed at Ft. Hood in Killene, TX where he serves as an Executive Communication Technician with a Security Plus Certification. Damon has received two Army Achievement Medals, a Global War on Terrorism Medal, an Overseas Service Medal, a Korean Service Medal, a Wartime Service Medal and three Certificates of Achievement. Damon plans to serve for a total of eight years.
Ben West
United States Air Force - Presidential Air Force
Ben West, second cousin to High Springs, FL Teller Michelle Dillon, retired from the United States Air Force after 20 years of service. Ben enlisted in 1966 and during his tenure, he traveled to 800 cities in 183 countries. After being stationed to Andrews AFB in 1980, Ben was assigned to the 1st MAS, Presidential Support Fleet for President Reagan. During this time, he flew the president, vice president, cabinet members, as well as senior members of the House and Senate. In the late 1990s, Ben became an aviation consultant and even flew John Travolta for years starting in 2007. Ben is now living as a retiree in Suwannee, FL where he enjoys fishing and traveling. Thank you, Ben, for your service!
Matthew Chesser
United States Marine Corps - Sergeant
Matt served honorably for 10 years in a variety of capacities including military police as well as a swim and water survival instructor. During this time he also obtained his National EMT (Emergency Medical Technician) Certification and further contributed to his community as a volunteer fire fighter. Matt served in four combat tours of duty in Iraq and Afghanistan, and is a recipient of a Purple Heart. Matt lives in Jacksonville, Florida with his wife and five beautiful children and attends Mary Queen of Heaven Catholic Church.
Morgan Cochran
United States Army - 1st Lieutenant
Morgan Cochran, daughter of Mortgage Banker Steven Cochran, has served our country for the past two years. Morgan has recently graduated 1st in her class from flight school, flying Apache helicopter. She will transfer to Fort Hood, TX. and from there will then deploy to either Germany or Afghanistan. Thank you for your service, Morgan!
Damon Frison
United States Navy - Operations Specialist (OS3)
Damon Frison, husband of Jacksonville, FL Call Center Representative Ti'Errica Frison, has proudly served in the United States Navy for five years. During his tenure, Damon was stationed at Mayport Naval Base and Naval Air Station Jacksonville. Damon spent time overseas while serving on the USS Vickburg where he was honored and awarded for going beyond the call of duty. Thank you, Damon, for your service to our country!
Tony "Sarge" Lopez
United States Navy & United States Army - 1st Sgt.
Tony "Sarge" Lopez, PC technician for Ameris Bank, served in the United States military for 24 and a half years. Tony joined the United States Navy at 19 years of age and served six years as a gunnersmate. He then enlisted in the United States Army where he served for a total of 18 and a half years. During this time, he fought in both the Vietnam War and the Gulf War. Tony retired from the military in 1993 as a 1st Sgt. and attended college to receive his degree in computer science. Tony is a great asset to the Information Technology department and to the Ameris Bank family. Thank you for your service, Tony!
Michael Bowers
United States Army National Guard - Military Police & Mortuary Affairs
Michael Bowers, son of Tifton, GA Personal Banker Terri Bowers, has served in the Army National Guard for eight years. Michael's first four years were spent as serving as military police. His next four will be spent serving in Mortuary Affairs NCO with Tifton, GA's 110th CSSB (combat sustainment support battalion). Thank you, Michael, for your service!
Lanny Jones
United States Air Force - Technical Sergeant
Air Force Technical Sergeant Lanny Jones, is the son-in-law of Moultrie, GA Commercial Banking Assistant Terri Roberts. Lanny has served for 17 ½ years in the Air Force and remains on active duty. During his service, Lanny has served in Kuwait, Afghanistan and Korea. He is currently working in Aircraft Armament Systems and is stationed at Moody AFB, GA. Thank you, Lanny, for your service!
Griffin Tillis
United States Navy -Ensign
Griffin Tillis, brother of St. Augustine Assistant Branch Manager Austin Dietly, graduated from the University of Florida in August of 2014 and boarded a plane for Officer Candidate School the same day of his graduation. In November of 2014, he graduated from OCS and was assigned to the USS Gonzalez in Norfolk in January of 2015. In November of 2015, he was a part of the Harry S. Truman strike group for a tour to the Persian Gulf. Currently he is an Ensign in the Navy, and is in charge of anything that launches off of the ship. He is expected to be home in July of 2016 to continue his education in Nuclear Propulsion for the Navy in South Carolina. Thank you, Griffin, for your continued service!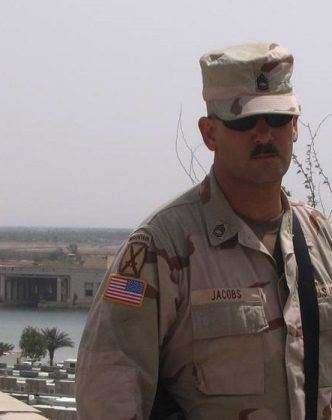 Joel Jacobs
United States Army - Sergeant First Class
Husband of Hinesville Personal Banker Michelle Jacobs, Sergeant First Class Joel Jacobs, served in the US Army Engineer Corps from 1985 to 2006. He met the love of his life, had two children and traveled the nation and world with his family. During his time in service he deployed to Somalia and Haiti, and served on tours in Bosnia, Herzegovina and Afghanistan, as well as two tours in Iraq.
Joel loved being a soldier and will always be proud of his service. He currently works at the Georgia Department of Labor assisting veterans and transitioning soldiers with barriers to employment, helping them re-enter the work force. Joel is a Wounded Warrior but uses his experiences to help other veterans realize that the "only limits you have is the limits you place on yourself."
Thank you, Joel, for your service!
Bennett Gore
United States Army National Guard - Chief of Military Justice for the South Carolina Army National Guard
Major Bennett Gore is the husband of Corporate Marketing Manager Ann-Stanton Gore. Bennett served in the U.S. Army's Judge Advocate General (JAG) Corps for nearly 9 years on active duty. During that time, he deployed to Iraq in 2011 with Operation Iraqi Freedom. He is now the Chief of Military Justice for the South Carolina Army National Guard, and practices law with Bluestein Nichols Thompson & Delgado LLC in Columbia, SC. As a civilian attorney, Bennett provides representation to service members across all military branches in need of criminal defense, and proudly provides Veteran Disability counsel services to Veterans and their family members during the appeal of their claims against the Department of Veterans Affairs. Thank you, Bennett, for your service!
Joe Read
United States Navy- Quartermaster First Class Surface Warfare Specialist
Joe Read, father of Digital Marketing Specialist Jessie Read, retired from the U.S. Navy after serving his country for over 20 years. During is his time in the service Joe traveled to over 15 countries, served on three ships, three Shore Commands and served in the Gulf War. Joe retired as a Quartermaster First Class Surface Warfare Specialist. Thank you, Joe, for your service!
Shawn Gleason
United States Navy - Retired Avionic Technician
Cordele, Georgia
shawn.gleason@amerisbank.com
Shawn served in the U.S. Navy from 1989-1993. He served as an Avionic Technician 3rd class attached to the E2C squadron, VAW-123, "The Screwtops." During his time in the service, Shawn traveled to Central America and took part in operations to stop drug runners out of Colombia. Shawn also took part in Operation Desert Shield, Desert Storm and Provide Comfort on-board the U.S.S. America (CV-66) aircraft carrier.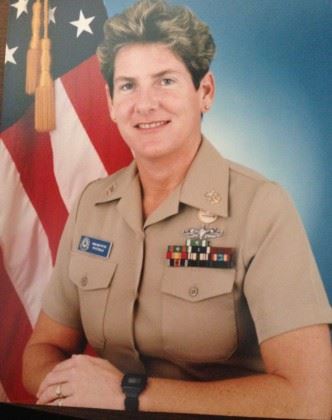 Laurie Potter
United States Navy - Retired Command Master Chief
Oxford/The Villages, FL
laurie.potter@amerisbank.com
As Command Master Chief, Laurie Potter was the Senior Enlisted Advisor to the Commanding Officer. This photo, taken in 1995, was also the same year Laurie was selected to be the very first Female Command Master Chief in the entire Navy to serve at a F-18 Fighter Jet Squadron. She served on the East Coast, West Coast, Hawaii and Europe, and on 3 different ships in her 21 year career. Laurie attributes her success in large part to the great people she had working for her, and helping them succeed. For most of her career, Laurie was the Administrative Manager and in charge of the monthly/quarterly/annual Officer Performance reports and other reports required by the Navy. As Command Master Chief, she was mostly in charge of all Personnel and Quality of Life events, which is to say she took care of the troops in her command, in addition to making sure the Commanding Officer was informed of all issues.
Laurie retired from the Navy in 1998.
Now an Ameris Bank Mortgage Banker, Laurie has been taking care of her customers' needs in their desire to obtain home loan financing. Because of her military training, she is extremely well-organized, able to multi-task and able to originate and close loans in under 30 days. Just as in her military days, Laurie attributes a large part of her success at Ameris Bank to the team she has behind her!
Interested in contacting Laurie regarding a home mortgage? Visit:
amerisbank.com/lauriepotter